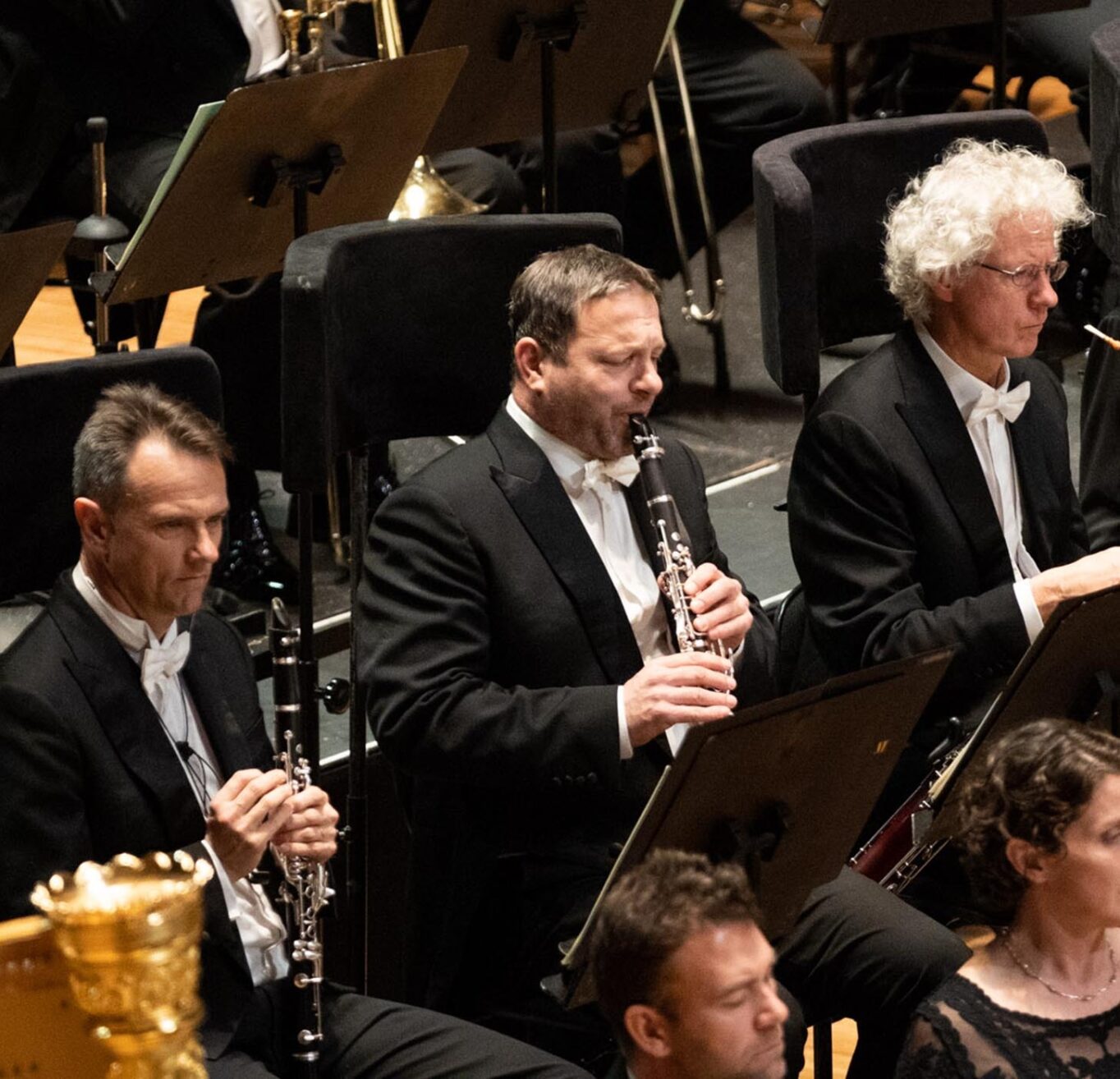 Centre Stage with Francesco Celata
09 March, 2021
Mozart is a composer who barely needs introduction. Amongst his hundreds of masterpieces, Mozart's Clarinet Concerto is considered one of his very finest.
We sat down with our Associate Principal Clarinet Francesco Celata ahead of his appearance as soloist in Mozart & Schumann to get his thoughts on the clarinet, the experience and demands of performing as a soloist, and why Mozart's concerto reigns supreme among clarinet concertos.

What inspired to you to begin playing the clarinet?
The clarinet was not my first choice! I had always wanted to learn the piano but my brother, also a professional clarinettist, had upgraded from a plastic clarinet to a new wooden one around the time I wanted start playing a musical instrument. I got the hand-me-down – and I've been very grateful for it!
Mozart's Clarinet Concerto is one of the most performed clarinet concertos. What makes it so popular among clarinettists?
Out of any concerto written for the clarinet, this concerto still seems to reign supreme. From the hauntingly beautiful Adagio movement, the flowing interweaving melodies of the first movement and, the final Rondo movement – which for me has an element of sadness through it – this concerto embodies the pinnacle of Mozart's abilities. It's no wonder such a piece is popular with clarinettists and audiences alike. I have been playing this concerto since I was 12 years old. It never gets tiring performing the work – you're always developing stylistically and striving for technical perfection.
What is the story behind the origins of this piece?
The concerto was written two months before Mozart's death in 1791. It was written for his friend and, virtuoso clarinettist Anton Stadler, for whom the Clarinet Quintet had also been written. The Concerto received its first performance, also by Stadler, in Prague the same year.
We're used to seeing you perform as a member of the Sydney Symphony. rather than as a soloist. What are the differences between performing as a soloist and as part of the Orchestra?
Playing in the orchestra is very much about being a team player. You need to know when to stand out – and when not to! You need to be able to listen and balance carefully with your section, particularly around intonation and rhythm.
Playing solo in front of the Orchestra is exhilarating and you are much more responsible for the artistic outcome of the performance. The Orchestra accompanies you and while all the things that are important in ensemble playing such as balance, intonation and rhythm still apply, as soloist, you set the agenda. I enjoy playing both.
When you're performing in the orchestra what do you look forward to playing as a clarinettist?
I particularly enjoy playing Mahler, Beethoven, Brahms, Shostakovich symphonies, the Strauss tone poems, and the music of Ravel and Debussy.
What music do you listen to when you're not playing?
I have an eclectic taste in music and I always listen to different genres. I like anything from Italian madrigals through to contemporary pop music. I can't say I have a favourite genre – although pop music of the 80's was always pretty special!
You can catch Francesco's solo in next week's performances of Mozart & Schumann. Tickets selling fast!
Image credit: Jay Patel