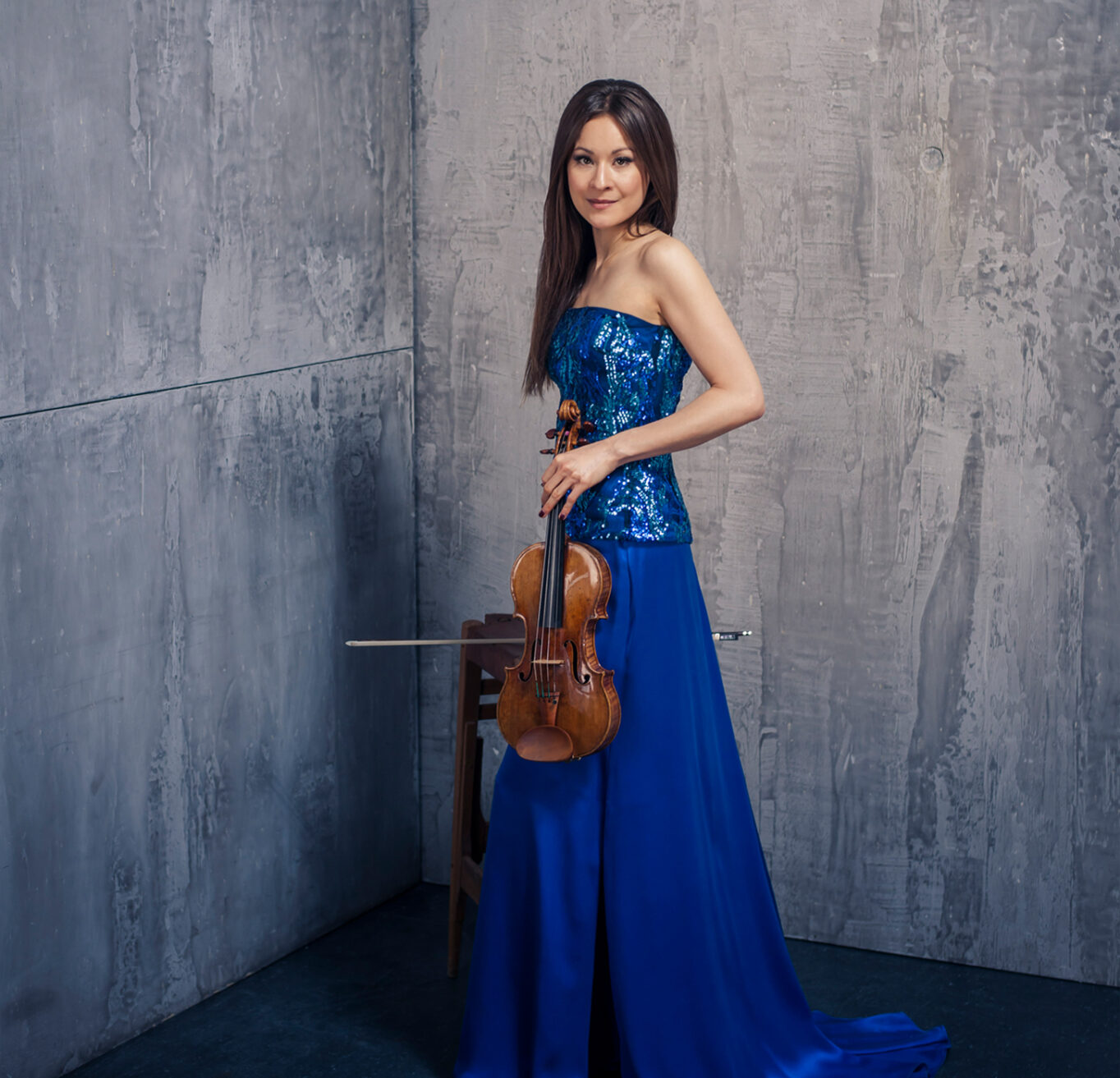 A Story of Creation: Behind the Scenes of a World Premiere
11 April, 2023
In April, violinist Arabella Steinbacher will join the Sydney Symphony to give the world premiere of a new violin concerto by award-winning composer Georges Lentz. Here Lentz and Steinbacher discuss inspiration, pushing the boundaries of the violin, and how music can speak to a universal human condition.
By Hugh Robertson
There is an idealised notion of the act of creation that it all happens in a flash, like the Big Bang:
Inspiration strikes, an idea is formed, and after a mad frenzy of composition a work of art is revealed to the world, fully formed and immutable. Of course that romantic image is often far from the reality, which involves hard work, revisions, and much wailing and gnashing of teeth. As the famous saying goes – variously attributed to Frank Norris, Dorothy Parker and George RR Martin – writers hate writing but love having written.

For composer Georges Lentz, the act of writing music is a slow and deliberate process. Lentz is well-known to Sydneysiders as a long-serving member of the Sydney Symphony's violin section, but he is also one of Australia's leading composers – awarded the prestigious Paul Lowin Prize for orchestral composition in 1997 and the Australasian Performing Right Association (APRA) award for best composition by an Australian composer in 2009, among many other accolades.
Another major triumph came in 2022 with the opening of the Cobar Sound Chapel in Outback NSW, a purpose-built venue – designed by award-winning architect Glenn Murcutt – which houses a surround-sound four-channel projection of Lentz's vast digital composition String Quartet(s), and runs twenty-four hours a day all year round. This extraordinary project was the subject of an episode of the ABC's Compass program and featured as the cover story of Limelight magazine's April 2022 issue.
Despite all these successes, Lentz remains far from a prolific composer. He rarely publishes new compositions or accepts commissions, and prefers to work on each of his pieces over a number of years, often working on several at the same time. He also writes his scores entirely by hand rather than using a computer program, demonstrating his seriousness of purpose and meticulous devotion to his craft.
So when he was approached by superstar German violinist Arabella Steinbacher to write a violin concerto for her, he immediately felt the weight of that task.
"The genesis of this piece was somewhat surprising and almost traumatic for me," recalls Lentz. "I felt very honoured to be asked by Arabella to write a violin concerto for her, but I really believe that unless you have something ever so slight to add to the amazing music that's out there in the repertoire, then why bother?"
Thankfully for music lovers, Steinbacher wasn't going to take no for an answer. She had heard Monh, Lentz's concerto for solo viola, orchestra and electronics which he wrote for German violist Tabea Zimmermann, and so when Steinbacher came to perform in Sydney in 2018, she seized her opportunity to approach Lentz in person.
"I was very fascinated by this spiritual side of his work," says Steinbacher. "And I had never had a violin concerto written for me, but I thought maybe it was a possibility [with Georges]."
Five years after that first approach, the Sydney Symphony is poised to give the world premiere of "…to beam in distant heavens…", with Steinbacher as soloist and Umberto Clerici conducting – and Steinbacher has ended up with exactly what she was hoping for: a concerto that is her very own.
"I have the feeling this concerto is really written for me," she says with a smile. "When I play it, it brings out everything that I have in myself."
It is no coincidence that Steinbacher feels the piece is written for her, says Lentz, as not only did he write this work for Arabella, but to a certain extent it is directly inspired by her, too.
"The first idea [for the music] came after a few weeks of visualizing Arabella's playing," Lentz reveals. "I thought that Arabella has got something angelic in her playing, and I started thinking of angels. Spiritual ideas have always been very important to me, and so that came in there. Darker ideas came in later, but that's where it started from."
"I hope that in the final product there is some real angelic music, that there is real beauty, and reaching for something higher than the everyday," continues Lentz. "That is what music can do that nothing else can do. Music can take us somewhere where words fail."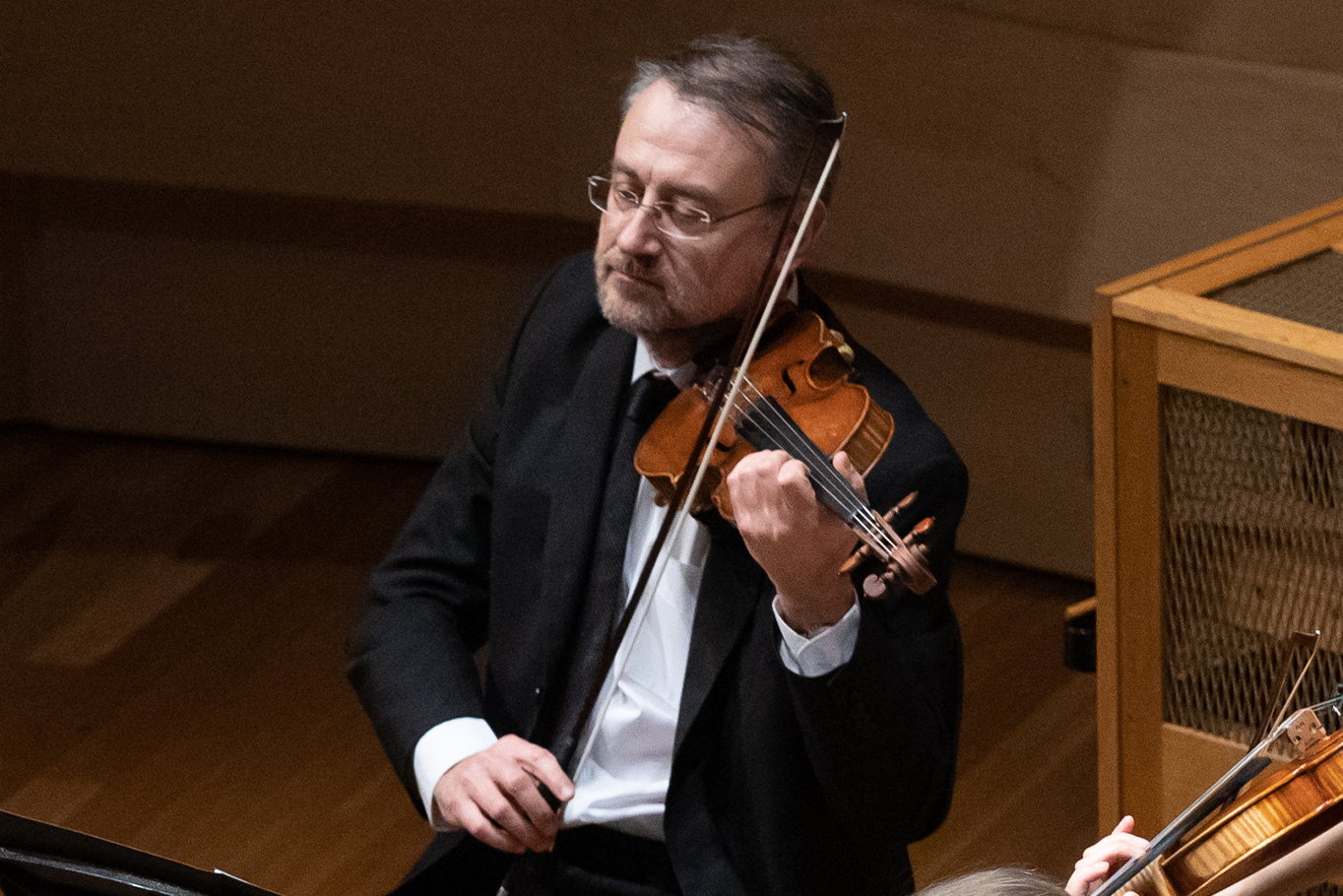 Throughout his compositional body of work, Lentz returns again and again to the vastness of space, and the isolation of individuals; since 1989 he has been working on an ongoing cycle of works titled "Caeli enarrant...", a line from Psalm XIX that translates to 'the Heavens are telling...'. But Lentz is very clear that his music is not intended to be religious – he has been greatly inspired over the years by the Australian Outback landscape, astronomy, First Nations Australian art, and by the work of English poet and artist William Blake (1757–1827) – rather, he is grappling with the same fundamental, universal human questions and struggles that we all have.
"I'm a hopeless mystic," says Lentz, "and that always comes out in my music. I'm not a particularly religious person, but spiritual. And there's a spiritual fragility in this concerto that is hopefully going to speak and touch listeners."
"Some of the themes in this piece are exactly the same as my earlier works. But musically, you try and go in a different and new directions and explore other facets of the same thing. There is, of course, the beauty of the starry night sky, and I hope people will hear the little individual dots that symbolise stars and the loneliness out there."
"It's sort of an existential loneliness. We are really fragile – we come from nothing, and we go to nothing. But for music to have integrity, it has to be understandable, you know? Of course it has to be something that speaks to people."
"I love the Outback, and I have been out there so many times under the stars, with my own violin," he continues. "I feel the fragility. I feel the beauty, I feel the cosmic grandness of it all. And only by feeling those individual emotions, and knowing that all of us have, deep down, the same fears, the same hopes, the same joys – only by being really personal can you then be universal and speak to other people through your music. Because listeners might recognize something that they have experienced themselves – not in exactly the same way, but they are the same human experiences. We're all the same."
"But when all is said and done, of course, all those philosophical high-flying things – music has to be beautiful and communicate and speak to people. And that's what I hope that this will do. And I have no doubt that's in Arabella's wonderful hands, it will."
Steinbacher is confident that the beauty of the concerto will shine through, especially because she herself feels it when she plays the piece. But she also points out that this is where working with a composer on a new work can bring out more of the thoughts and feelings behind the piece: by knowing what Lentz is trying to say through his music, she can draw that out in her performance – a much easier task than when performing pieces written 200 years ago.
"Definitely working with Georges has helped me bring out these themes," she says. "Knowing the inspiration behind the music helps me bring it out in the sound, as well – it is much easier to find the right sound to express Georges' imagination, and the meaning behind his ideas."
"He mentioned loneliness before – there are many moments where there's complete quietness and loneliness," Steinbacher continues. "Especially these lyrical moments, they are what music is all about. It's not about technical effects and virtuosity – of course it's a part of it – but in the end, it's always about trying to reach the people. If you reach their heart, then this is what music is about."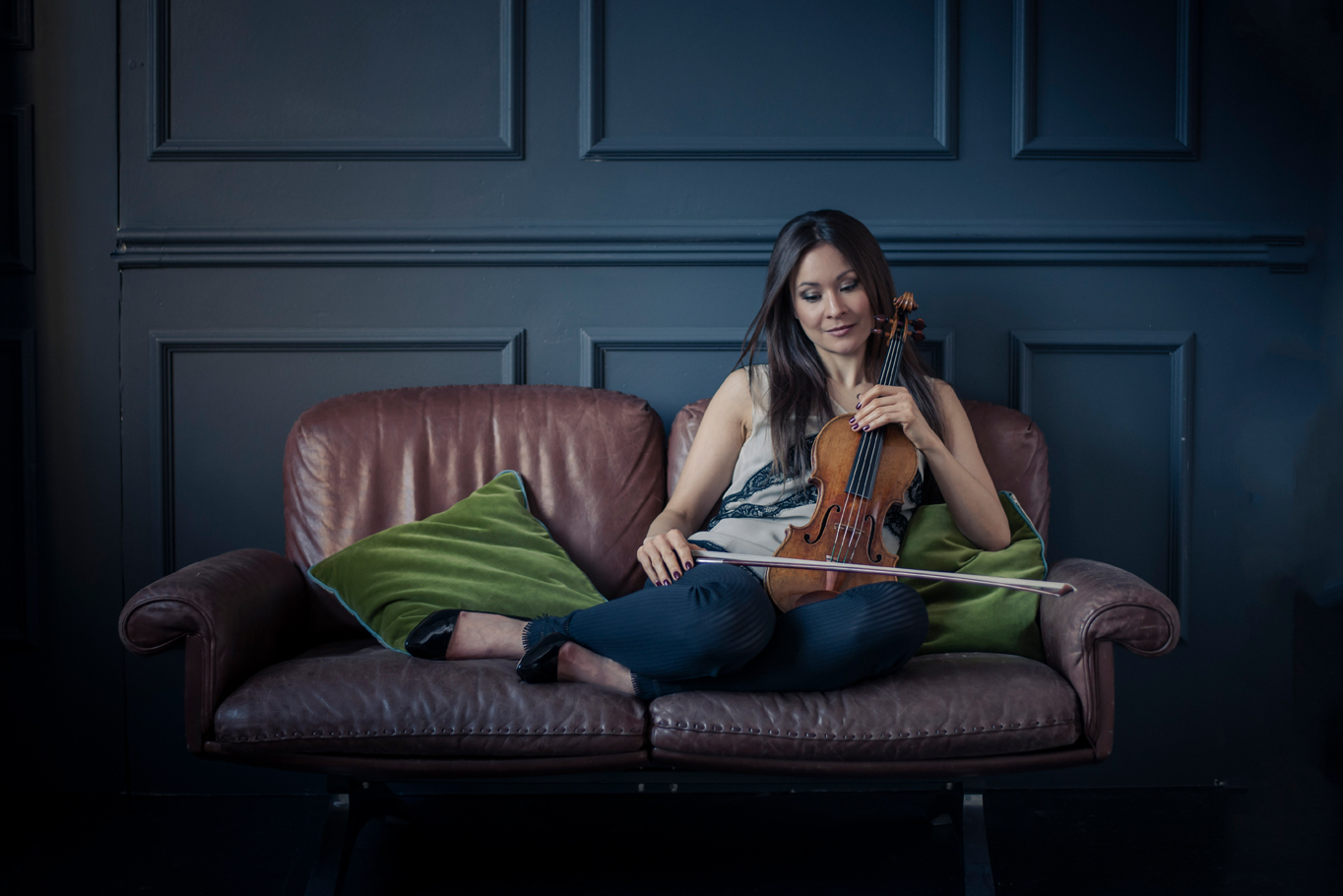 While on the subject of universal human experiences, there is another that emerges when speaking to Georges and Arabella about this new concerto – the desire to push the limits, and for one's reach to exceed one's grasp.
The history of the violin concerto has virtuosity and experimentation running through it. From early composer/performers like Heinrich Biber (whose Battalia opens these concerts) and Niccolò Paganini (whose talents were so great he was rumoured to have sold his soul to the devil); to Joseph Joachim, for whom Johannes Brahms, Robert Schumann and Antonín Dvořák wrote their concertos; to 21st century repertoire incorporating electronics that vastly expands the capabilities of the instrument, the violin concerto has always been at the forefront of ambition and experimentation in music. And Lentz wasn't about to let this unique opportunity to write for such an extraordinarily gifted violinist go to waste – something Steinbacher has come to appreciate.
"Being a violinist myself does give me an understanding of what you can do and what you can't do," says Lentz. "And sometimes it's important to know where the limits are so that you can go a tiny bit further."
"I definitely could feel, when I was playing it for the very first time, that Georges is a violinist," agrees Steinbacher. "Otherwise it wouldn't be so possible to play. But even then it's very difficult."
"There are some really nasty places in it, but still it is possible to play," she continues with a laugh. "And Georges knows exactly how to bring out the effects that are possible on the violin."
"For me as a player, it's fascinating to find completely new colours, and to hear what is possible on the violin which I don't use in other works. I have find out many new things on the instrument, and that's really just wonderful.
"Yes, it is a concerto for the violin," says Lentz. "And I know a thing or two about the violin! But it's never effects for their own sake. As I said, any work of art, or any work of music worth its salt, has to have integrity to it. It has to have its own logic and its own truth so that it comes from the heart. And that's really important. There may be lots of difficult things in there, but I hope that there's also plenty of beauty in there.
"I certainly have written a lot of passages that I think will make Arabella's wonderful tone shine – slow passages where there is something to savour, a beauty to savour; a truth, an integrity, without which a work of art cannot communicate with a listener."
Georges Lentz's …to beam in distant heavens… was commissioned by the Sydney Symphony Orchestra and Etablissement public Salle de Concerts Grande-Duchesse Josephine-Charlotte / Philharmonie Luxembourg & Orchestre Philharmonique du Luxembourg with generous support from Liz and Ken Nielsen.
Top image by Sammy Hart.
SEE ARABELLA STEINBACHER WITH THE SYDNEY SYMPHONY