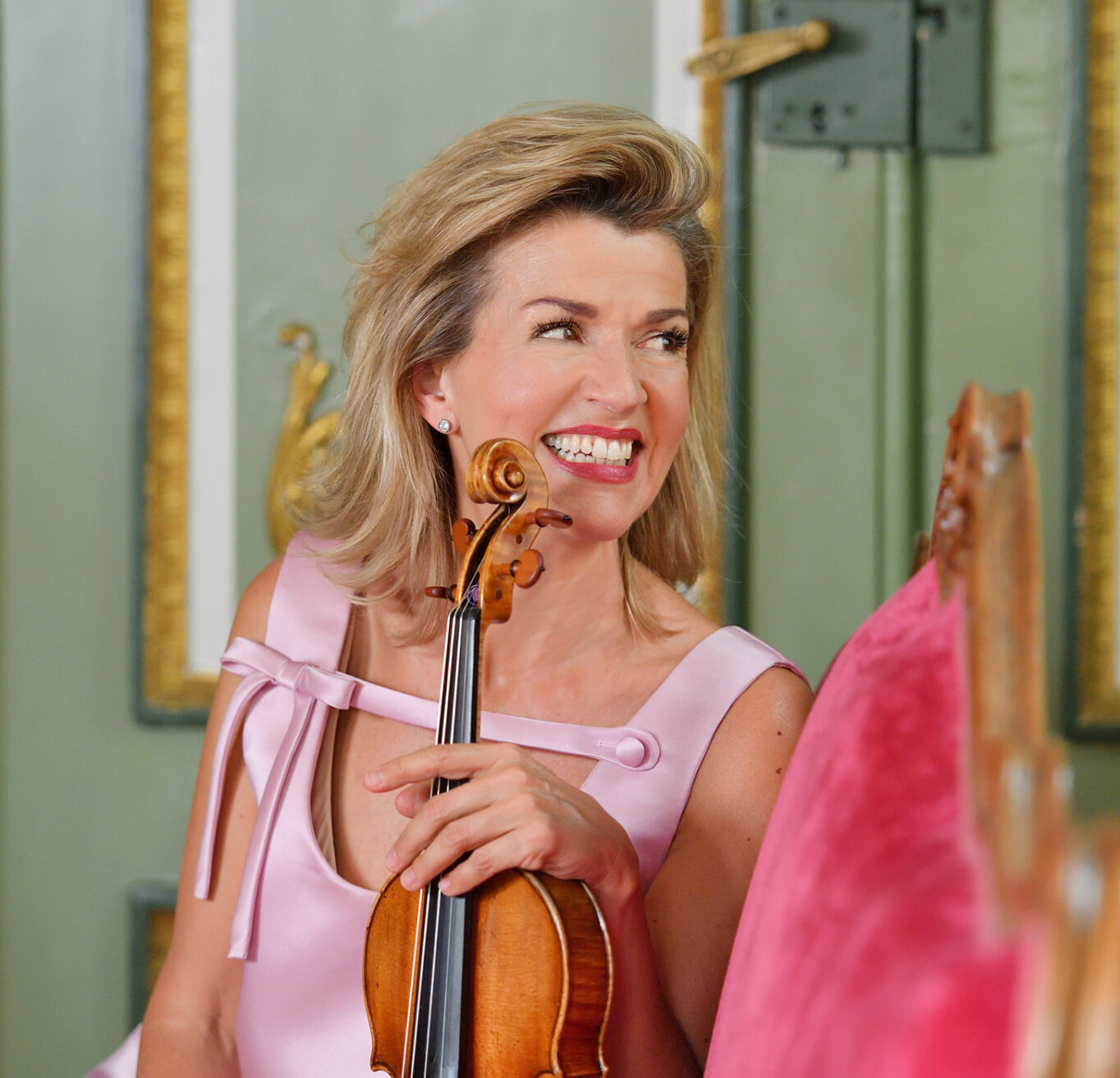 Anne-Sophie Mutter on John Williams and the magic of live performance
24 October, 2023
The superstar violinist discusses her rich collaboration with the legendary composer, the privilege of live music and her special bond with the Sydney Symphony ahead of her long-awaited return to the Orchestra in November.
By Hugh Robertson
It is hard to find words to do justice to the extraordinary career of Anne-Sophie Mutter.
The German violinist has been a major star international star since the age of 13, when she was invited to perform with the Berlin Philharmonic by legendary conductor Herbert von Karajan. In the almost 50 years she has been, as The Times (London) wrote, 'the undisputed queen of violin-playing', winning countless awards including four Grammys and receiving honours from many countries for her dedication to humanitarian causes.
A feature of her glittering career has been long and fruitful collaborative relationships with other musical superstars, in particular Yo-Yo Ma and Daniel Barenboim and, in recent years, with composer John Williams. Best-known for his iconic film scores including Star Wars, Jurassic Park, Indiana Jones and countless others, Williams also has a long list of compositions for the concert hall to his name, and his collaborations with Mutter have resulted in thee albums and two major new commissions: Markings for solo violin, strings, and harp (2017) and his Violin Concerto No. 2 (2021). This November, Mutter is bringing the concerto to the Sydney Symphony for its Australian premiere in three highly-anticipated concerts that will also feature other works by Williams, as well as music by some of the great Hollywood composers that influenced Williams.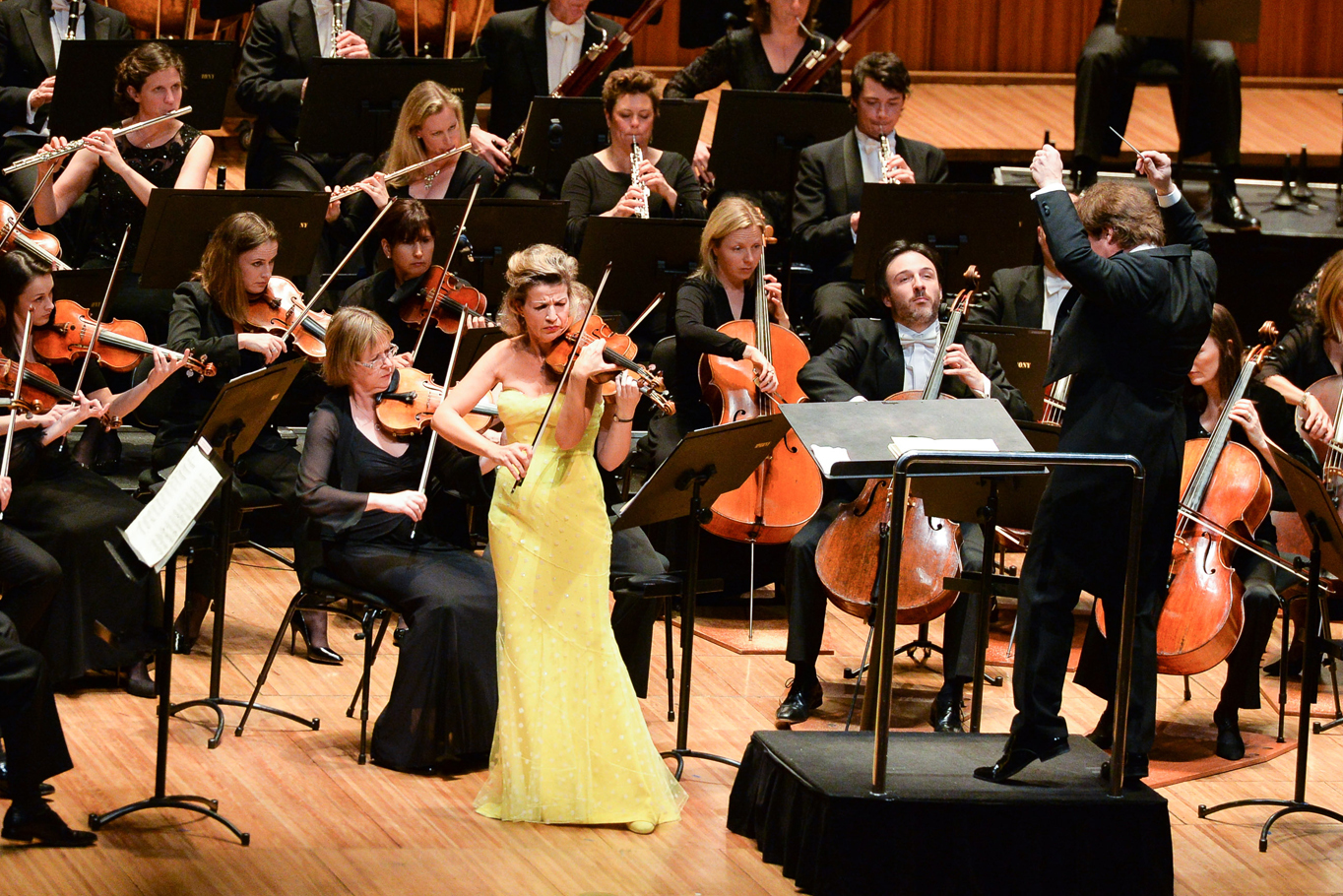 Mutter's performances of the great violin repertoire have received rave reviews the world over, including on her four previous appearances with the Sydney Symphony Orchestra when she performed concertos by Beethoven (2012), Mozart (2014), Dvořák (2015) and Tchaikovsky (2018). But throughout her career Mutter has been a voracious seeker and commissioner of new music, and has given the world premieres of 31 new works by many of the great modern composers including Thomas Adès, Sofia Gubaidulina, Witold Lutoslawski, Krzysztof Penderecki and Wolfgang Rihm. But one gets the sense that working with Williams has been particularly special.
'He knows it all,' says Mutter with a laugh. 'The way he's interested in phrasing and bowing – he really knows the instruments he writes for. And he still has a very keen interest in improving something. I mean the work is perfect, but he is always interested in finding the ideal solution and so he's tinkering with it constantly.
'Seeing that passion, that dreaming of the ultimate musical construction masterpiece, seeing that in a person who already has achieved everything and is such a genius, and such an all-rounded musician, is very humbling and a very beautiful moment in my life to witness this.
'And I am so excited to bring it to Australia; being in Sydney has always been something very special to me. It's maybe inexplicable. It's just it's such an exciting place. And I love the Opera House, I love the Orchestra. We have really a wonderful connection.'
The feeling is certainly mutual. Simone Young, the Orchestra's Chief Conductor, describes Mutter as 'a truly exceptional artist.' Young also points out that Mutter has that indescribable quality that draws people to her. 'She's an artist who engages immediately with audiences, and audiences respond to her. She's really of an extraordinary calibre.'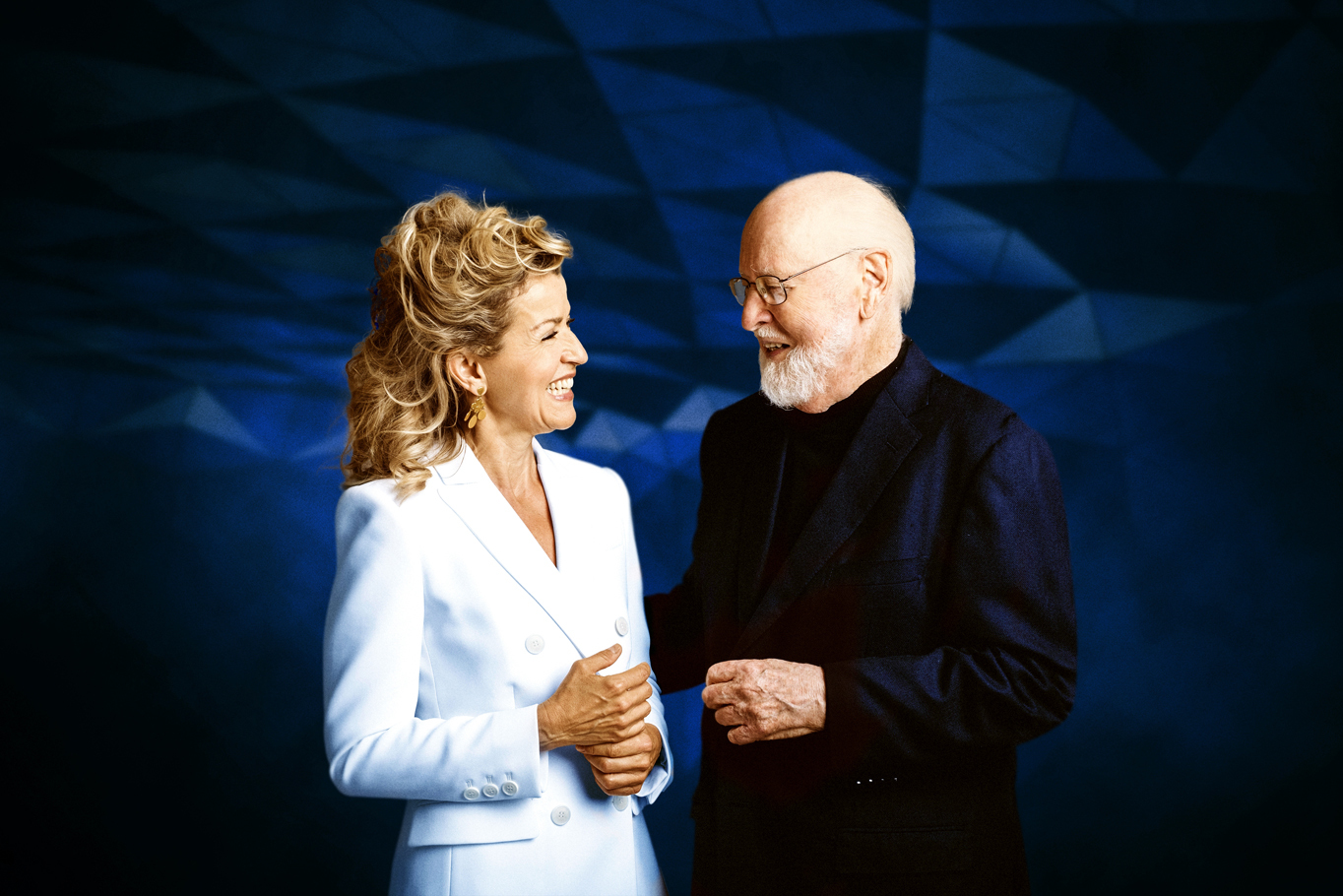 Despite her decades at the top of the classical world, Mutter remains down-to-earth and deferential, especially when talking about her relationship with Williams, who she refers to many times as 'the great master'.
'I was very aware of John's film work from the late Seventies,' recalls Mutter via Zoom from Berlin. 'The introduction to Star Wars, and its leitmotif, and the richness of ideas, its depth, never left me. And years later, going to the cinema with my kids and being reintroduced to his scores proved to be an incredible source of inspiration.'
Even the story of how they came to work together is totally free of pretension, rather than the Hollywood glamour you might expect from two musical legends. Though strangely it wasn't until about 11 years ago that Mutter and Williams finally met, thanks to a mutual friend – the great pianist and conductor André Previn. Not wanting to miss her chance, Mutter asked Williams if he would write something for her.
'I met John at the summer camp of the Boston Symphony Orchestra at Tanglewood,' remembers Mutter with a smile. 'I met him, and my son Richard met him, and he is just the most genuinely kind and generous and humble and brilliantly alive person you could possibly think of.'
'Against my shy nature, I dared to ask him if he possibly could one day write a few bars for me, and very charmingly but very directly let me know that he was terribly busy with another project with Mr Spielberg.
'Anyhow, as he likes to tell the story, apparently my sending him some German gingerbread for Christmas brought him into a situation where he thought he has to answer now with a few bars of music – for every gingerbread a bar of music,' she says with a laugh. 'So I kept on sending gingerbread and he kept on writing and Markings was born.'
The success of Markings led to Mutter asking if Williams would re-work some of his famous film scores for violin and orchestra, which led to their first album together, 2019's Across the Stars, with Williams conducting Mutter in music from Harry Potter, Star Wars, Schindler's List and more. It was a huge critical and commercial success, garnering Mutter Germany's most prestigious classical music prize, an Opus Klassik award, for Instrumentalist of the Year.
The success of that project got Williams and Mutter thinking about what more they could do together, and Mutter suggested a concerto, knowing full well it could take years to eventuate. But then the pandemic struck, and with Hollywood shut down the usually busy Williams had time on his hands, and over the ensuing months pages and pages of the score would arrive in Mutter's inbox for her to play through, provide feedback, and then be revised.
The results, which Sydney audiences will hear in November, are stunning. BBC Music Magazine described the concerto as a 'hugely expressive, deeply atmospheric' work, while Limelight declared it 'a piece that should immediately blaze its way into the violin repertoire' that makes the most of 'Mutter's faultless intonation and wonderful tone.'
Mutter's enthusiasm for the work is obvious. When asked what audiences should expect to hear, she takes the time to go through each movement in detail.
'I think like with any other piece of music, just try to immerse yourself,' she says.
'We have these four movements. The first one starts with an introduction of the harp and then the violin, and at the end of the movement you already have a glimpse of a theme which will come back and which will conclude the piece.
'The second movement is called Rounds. And so it's like a maze. It's like butterflies flying through the morning haze. It's very subtle, very poetic, very soft, very whispery, very fragile. And the third one is this you know, very ironic – or very pesante, very forceful, actually – scherzo, so-called scherzo with a huge cadenza.
'And then the fourth one is really the closing chapter of the piece, which is once again very serene, and it does end in a pianissimo with the soul kind of flying off into we don't know where. It's a very personal, very poetic, beautiful way of just flying away.
'I just want to share one of the great masterpieces of our time with an audience which seems to be extremely open minded.'
'I think one of the wonders of contemporary music – and also John's piece – is that it is new, we haven't heard it. It's a great invitation for a voyage into a world of sound of musical expressivity written some two or three years ago. Which reflects also on the present time and bring some freshness to our ears. It's like being explorers all together and it's very important.'
'Anyone who knows John Williams' film music will recognise certain elements,' says Simone Young enthusiastically. 'But like all great film composers, John Williams is a great composer to start with.'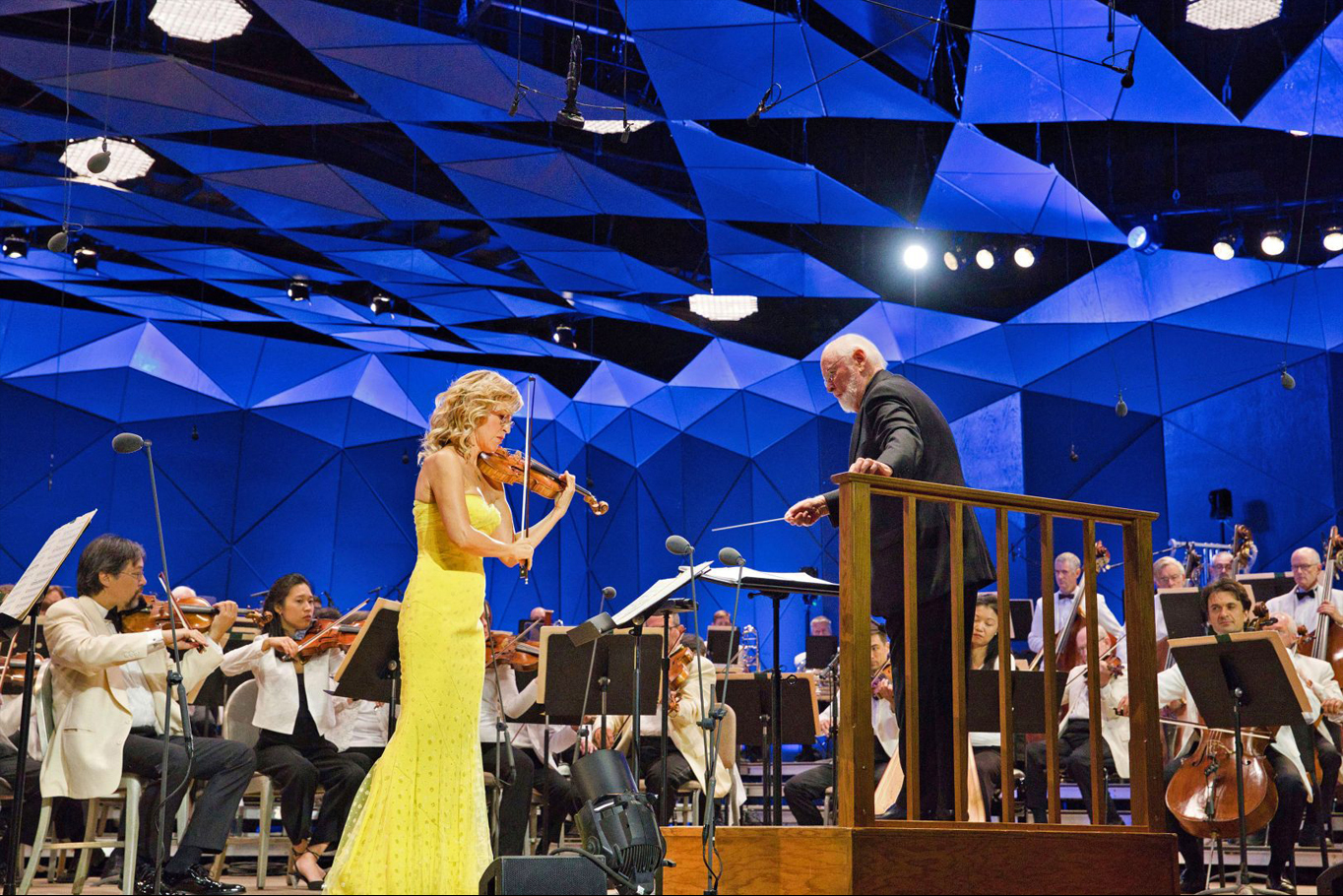 What is clear is that Mutter, even after almost half a century, is still energised and inspired by live performance, and the transformative effect that live music can have on us.
'When I'm sitting in a concert and seeing my colleagues playing their heart out, I feel it's such a privilege. It's such a present that you can sit down and have this voyage without any effort on your part, other than turning off the phone and being there, and being open to immerse yourself and dedicate two hours of your life to that fantastic experience.'