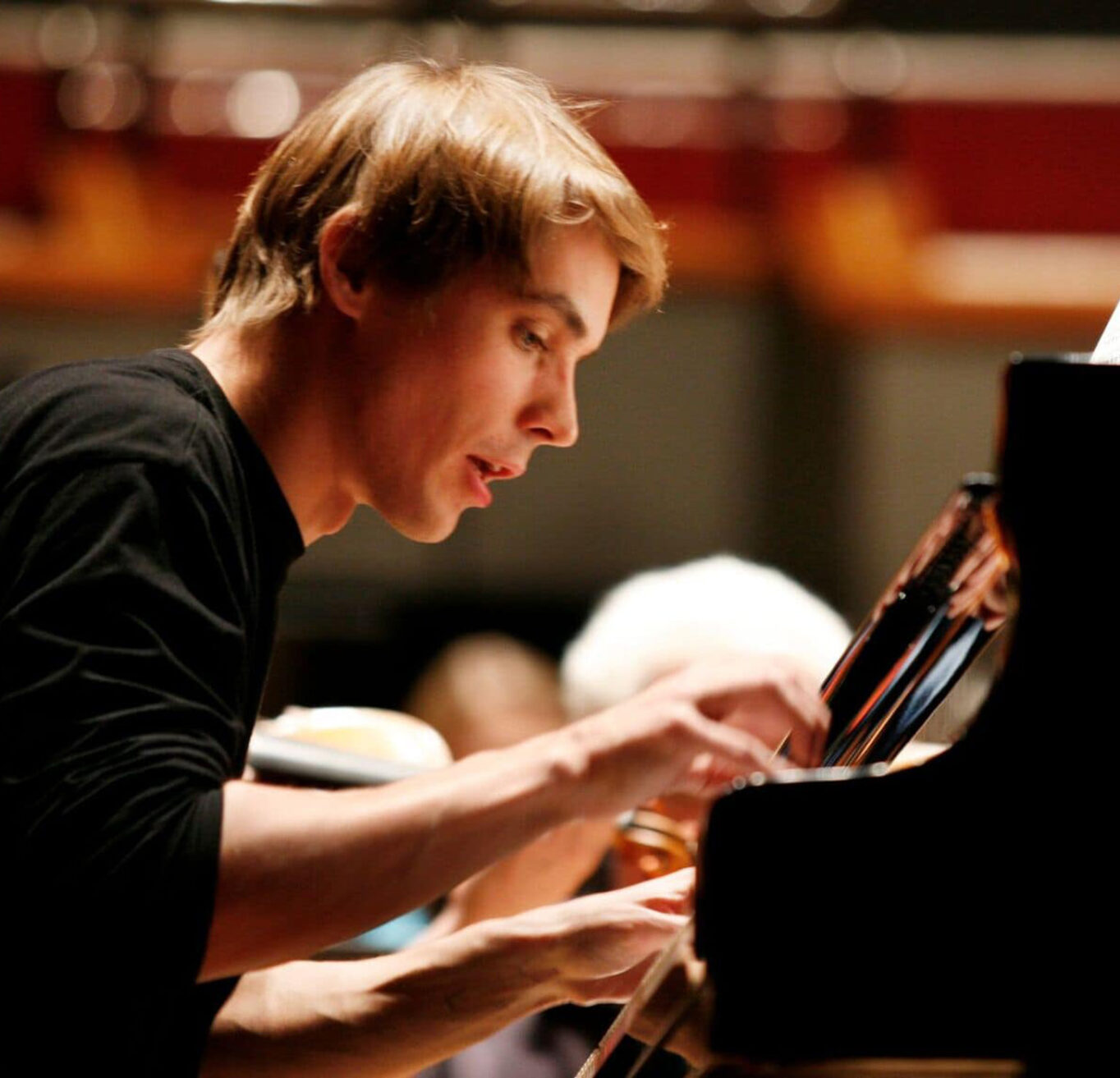 Cédric Tiberghien and the Sound of One Hand Performing
31 January, 2023
"You are seeing someone doing something extraordinary." The acclaimed French pianist Cédric Tiberghien on why Ravel's Concerto for the Left Hand remains so remarkable, and his excitement at working with Simone Young again.
Written by Hugh Robertson
It is often said of the world's greatest artists that they felt called to their craft, that there was some cosmic predestination that drew them to their life's work.
For the brilliant French pianist Cédric Tiberghien, there is a famous family story about the exact moment that he became transfixed by the piano.
"My parents knew a piano teacher, and they were invited for a dinner – and were asked to bring their child along. I was two years old or so, not much more. And when we arrived, she showed me her beautiful piano. And she took the time to play little bits, but also to open the instrument and show me inside the piano – the strings, the dampers, the hammers."
"That was early in the evening, but much later– around midnight for something – I apparently walked through the house and asked to see the piano again. I think more than anything it was the shock of the instrument. Can you imagine, for a little baby, this instrument? It's huge. It is mobile. It has things moving inside. You can push things, and it makes noise."
"After that I was asking my parents – maybe not on a daily basis, but regularly enough – 'When can I see the piano again?' And the teacher said, 'You are a little too young to start now, but come and see me when you are five.' And I think on my fifth birthday, on the precise day, I went to her place and said, 'Now I am five and I want to play the piano.'"
"It was almost like an obsession. You never know what is happening in a child's brain, but that was clearly very powerful."
Clearly there was something deep inside that young boy that called him to the keyboard. But that same enthusiasm and hunger to learn more about the instrument has remained with him throughout his life. There is a matter-of-factness about Tiberghien's career that makes the whole thing seem fated: when asked about gaining admission to the Paris Conservatoire – probably the most prestigious and exclusive music school in the world for close to 200 years – at the precocious age of 14, Tiberghien speaks of it as though it was nothing.
"I entered the Paris Conservatoire without really thinking, 'Well, this is because I want to be a pianist.' It was just a very natural process for me. I took just an activity, almost a hobby that I was doing with the best of my heart. But I can't remember a moment that I decided, 'Oh, I want to become a pianist.'"
That natural affinity with his instrument shines through in his choice of repertoire. While many pianists specialise in a particular style, era, or even dedicate themselves to the work of one composer, Tiberghien has run the gamut from the 17th century to the 21st, and everyone from Jan Sweelinck (1562-1621) to John Cage (1912–1992).
Of course, for a French pianist, Maurice Ravel (1875 –1937) is never far away. Ravel composed two of the greatest French piano concertos – and you can hear another contender for that title, the Second Piano Concerto by Camille Saint-Saëns, performed by rising star Marie-Ange Nguci in March – and they have been a significant part of Tiberghien's musical life from the very beginning.
Ravel is a fascinating figure, one whose biography and personality seems completely at odds with the music he composed. He is thought of as one of the quintessentially French composers, yet his music was greatly influenced by his mother's heritage from the Basque region of Spain; he was fussy and meticulous about his public appearance, yet wrote some of the most lush and expansive music in history; and he wrote virtuosic and extraordinary pieces of piano music, yet he himself was not an especially good pianist.
"Well, definitely there is the paradox with Ravel," says Tiberghien. "Actually there are many paradoxes, because first, when you see pictures of Ravel, you see this little man, a short man, and always like a dandy, with his cane. And almost no expression, as if he was hiding behind a mask. You see that [photo], and you expect music that is – not cold, but restricted, in a way. And then you listen to the concertos, or to Daphnis et Chloé…" – at this, Tiberghien sighs an expansive sigh, and opens his arms wide as though to embrace the entire world – "…there is such a range of eroticism, lyricism, beauty, luxury. There is no word to describe how rich Ravel's work is. And just this discrepancy between those two elements is completely fascinating."
"And he was not himself a virtuoso, was not a very good pianist. I mean, he could play the piano, but he was not like Franz Liszt, or even Debussy. But his piano writing requires such a high skill, such a high level of knowledge of the piano – there is something that is really beyond understanding."
The work that Tiberghien will be playing in Sydney is the Concerto for the Left Hand. The work that Tiberghien is playing in Sydney is the Concerto for the Left Hand, a piece whose backstory is only surpassed by its musical quality. It was commissioned by Paul Wittgenstein, who had been an up-and-coming pianist in Vienna when World War I broke out and he was called up for military service. He was shot in the right arm during a battle, forcing it to be amputated, but rather than abandoning his beloved instrument he determined to forge ahead, teaching himself to play what he could with only one hand and asking many of the leading composers of the day to write new works for him. Benjamin Britten, Paul Hindemith, Erich Korngold, Sergei Prokofiev and Richard Strauss were among those who produced pieces for him, but it is Ravel's that has become a major part of the repertoire, even for two-handed pianists.
What is it that makes this piece standout from all those others?
"Well, first, definitely there is a theatrical aspect," says Tiberghien. "To see a piece played only with the left hand, it keeps amazing people and even amazing musicians. The first time you open the score, you think 'that's not possible'. You know? There's no way you can play a whole piece like this with only five fingers! You just can't understand it. You are seeing someone doing something extraordinary."
"And then I think the music itself speaks to everyone. Maurice Ravel knew better than anyone how to write for the orchestra, using perfectly every instrument. The combinations of the instruments are incredible."
"And it really speaks straight to everyone because it's connected to so many moods. You have of course classical music, but you have jazz, which is never very far away. I think it's a very universal piece – maybe even more so than Ravel's other concerto – just because of the many, many origins and roots."
"It is a powerful piece. For me, I love playing the G Major concerto, but this one is deeper, and when you follow the development from this blurred, dark, opening 30 seconds up to this incredibly bright five bars at the end of the concerto, you have been through almost everything. All the feelings you can get: there is sadness, there is happiness, there is lyricism, there is rhythm. It is so complete, and in only 20 minutes. I know very few pieces that reach this feeling of complete.
"We see the complete history of music, really, in only 20 minutes."
"And there are moments when it feels like you have two hands. It gives the perfect illusion. Even after almost 100 years it is still amazing for both audiences and musicians."
As well as being a masterful composer of piano music, Ravel is an incredible orchestrator, someone who innately understands the sound and balance of an orchestra perhaps better than any other composer in history. Not only are his own orchestral works rich and complex, but he could also draw out new voices and colours from existing works – most famously in his orchestration of Modest Mussorgsky's Pictures at an Exhibition, which you can hear in the same March concert as the Saint-Saëns Piano Concerto No.2.
Ravel's mastery of orchestration in the Concerto for the Left Hand is something that certainly makes an impact on Tiberghien. "The demonstration of the orchestra's capacity, and what you can do with an orchestra – as a pianist I like my instrument, of course, but I am fascinated by the instrument that is the orchestra. Every single time I play with an orchestra I am in awe, just thinking about all those sounds working together."
"And Ravel was a master, he was a wizard, with how to blend those sounds and what instrument to use. It is really the best way to discover what the orchestra is.
"For someone who has never heard a live concert, for example, or never heard an orchestra, Maurice Ravel is like the master. Beethoven is great, but with Ravel it is like fireworks for 20 minutes."
These concerts will be a feast of orchestral colour and drama, featuring not only Ravel's concerto but Rimsky-Korsakov's sweeping, intoxicating Scheherazade, a piece that Tiberghien knows and loves.
"Scheherazade is just an invitation to travel – to travel in time, or travel in space," he says with a smile. "I think this kind of program can really take you very far away from the concert hall. Suddenly you can forget that we are in the 21st century, and in Sydney. I listen to a lot of orchestral music, and that is the one that just makes me escape all the time. It is such a good feeling."
Tiberghien is also looking forward to reuniting with Simone Young, Chief Conductor of the Sydney Symphony. The pair have worked together countless times stretching back almost two decades, from Paris to Berlin to Perth, and multiple performances here in Sydney. Their musical and personal connection is clear to anyone who has seen them on stage together, and it shines through Tiberghien's broad smile when he talks about working with Young.
"Ah, Simone Young! She is a very good friend. I can't wait to work with her again. It has been a while [since we last worked together] and I've been missing it very much."
"I know it will be incredible. She has many, many, many qualities, but generosity is her maybe main quality. She gives to the orchestra, she gives to the soloist, she has almost a globe of energy around her, and everyone is just tucked inside. You can't resist. She gives you so much power and energy. There is nothing like playing with her to help you give the best of yourself."
And for the audience as well, it is always an experience – she shares her marvellous passion."
"This kind of program can really take you very far away from the concert hall. Suddenly you can forget that we are in the 21st century, and in Sydney."
Cédric Tiberghien speaks about the power of music to transport us far away from our everyday lives, and reuniting with his friend and Sydney Symphony Chief Conductor, Simone Young.
SEE CÉDRIC TIBERGHIEN WITH THE SYDNEY SYMPHONY