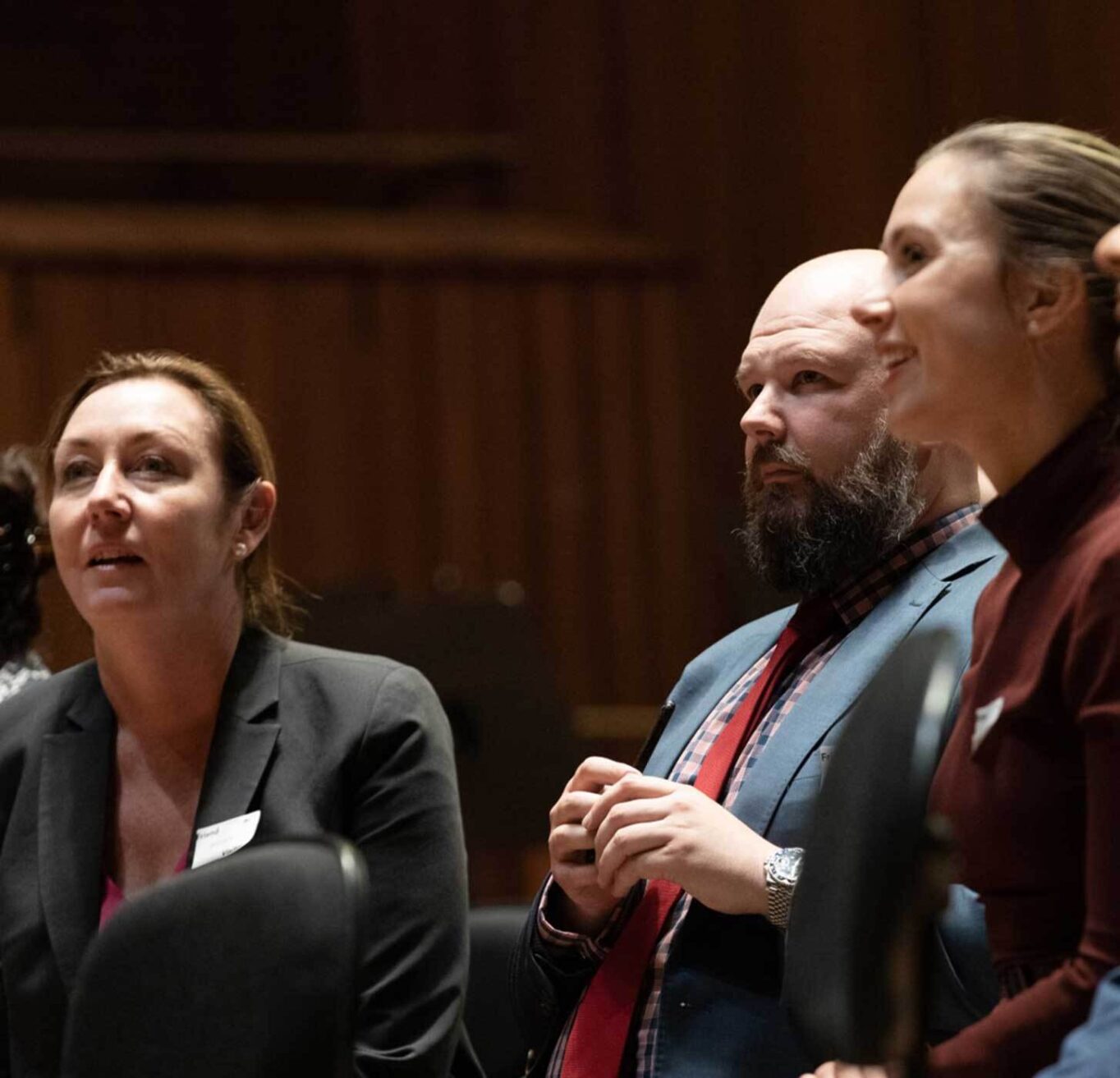 Corporate Workshop Packages
Sydney Symphony has developed a suite of powerful corporate workshops.
Presented in conjunction with business consultancy Coxswain Alliance, these engaging and interactive workshops draw parallels between the high-performing team of the Orchestra and the corporate environment. Challenge the way your team thinks about leadership, creativity, collaboration, listening, teamwork, resilience, excelling under pressure, and much more.

What needs are you and your team concerned about? Imagine exploring them through the world of music and our high-performing team!
Workshops can be tailored to focus on issues that are key to businesses across all industries, including but not limited to:
How to raise the level of performance
Exceeding audience expectations
Communicating more powerfully
Building a culture of shared vision and goals
Engaging staff to be passionate about what they do
Who?
Join our expert moderator/speaker Peter Braithwaite from business consultancy Coxswain Alliance and members of the Sydney Symphony Orchestra fellowship.
What?
A tailored workshop experience drawing parallels between corporate excellence and the excellence required within an orchestral setting.
When?
Timing is flexible! Hold the workshop when it suits your needs.
Where?
Hosted at the iconic Sydney Opera House. Access to this is available through the Sydney Symphony Orchestra. We are also able to hold these workshops off site.
Why?
Build your teams up to their potential through a tailored workshop that targets your priorities whilst in a different setting.
Inclusions for up to 50 guests
2-hour Workshop
The 2-hour interactive workshop can include refreshments and time to meet and talk with the players.
2x Consultations / Planning Sessions
Prior to the workshop, we will sit down with you and find out exactly what areas you would like to focus on to build your team, and tailor our workshop to ensure you get the best results possible.
Expert Moderator & Speaker
Enjoy our expert Peter Braithwaite, from Coxswain Alliance, a business consultancy, draw parallels of excellence between the orchestral and corporate worlds.
Performance
See the incredible musicians of the Sydney Symphony Fellowship and Sydney Symphony Orchestra perform chamber music at an elite level.
Venue Hire & AV
Below pricing includes hire of the venue within the Sydney Opera House, and all AV requirements.
Testimonials
"The interactive session you ran was a huge success and extremely well received by [our] leadership team. Our CEO was particularly blown away by the experience. It takes a certain skill to capture busy minds quickly and to not only transport them with the beauty of music but to keep them focused on individual and group performance."
"It was a very powerful, entertaining and creative session that had great resonance with our colleagues as they went through the issues of leadership, teams and communications as they apply to their own worlds. It was certainly one of the highlights of our conference."
"Thank you so much for your outstanding contribution to our retreat on Saturday. Your session was a resounding success with many staff sending us enthusiastic feedback."
"This was a fantastic event that we still fondly remember and discuss."
"I still remember clearly my [workshop] experience last year and found it very valuable and fascinating so [I] hope that we will be able to get some others to experience it for themselves."