How I Landed My Dream Job
28 August, 2020
Have you ever wondered how our musicians landed their position with the Sydney Symphony Orchestra? Violinist Monique Irik walks us through her journey from high school graduate to a permanent member of the Sydney Symphony.
What path did you choose to take straight after high school?
Monique Irik: I was very fortunate to attend the Conservatorium High School in Sydney, which nurtured my love for music and gave me the skills and confidence to pursue music at university. Having spent six years at the Conservatorium, I decided to go straight into study at the University of New South Wales where I could enrol in a double degree and have a broader education. I completed a Bachelor of Music with Honours and a Bachelor of Arts majoring in Sociology. I was grateful to be able to do this as the recipient of the Sony Youth Foundation Scholarship for the duration of my degree.
My time at UNSW also took me to McGill University, Montreal, where I studied under Canadian violinist Andrew Dawes for one semester.
This trip was a big turning point for my playing and my musicianship. I was pushed in so many ways, especially how to practice after coming inside from -15 degrees!
I cannot recommend exchange highly enough for any student wanting to push themselves and gain an extra dimension to their studies.
After graduating, what musical opportunities did you pursue to gain experience in the field?
The year after I finished my tertiary studies, I landed a position in the Sydney Symphony Fellowship program. You could have just told me I won the lotto!
I learnt violin from Emma Jezek (Sydney Symphony's Assistant Principal Second Violin) during high school and into my degree. I went to watch the Orchestra very frequently through high school – either via Meet the Music concerts, with my mum, or with a ticket from Emma to see an amazing soloist or conductor that she thought would benefit me. I would sit in the audience in total awe and felt so lucky to be learning off Emma!

After seven years with Emma, I then studied with Marina Marsden (Sydney Symphony's Principal Second Violin) for the next three years. To be given the opportunity to be a Fellow in this Orchestra and work alongside my teachers was an incredible feeling.
For over 15 years of my life, I was taught by Sydney Symphony musicians so it's no wonder I was so keen on a job with this Orchestra!
Through my experience as a Sydney Symphony Fellow, other doors opened for me. I started getting casual work with the Australian Opera and Ballet Orchestra, the Tasmanian Symphony Orchestra, the Queensland Symphony Orchestra and the New Zealand Symphony Orchestra. I tried to do as much playing as possible, from playing in the pit of musicals to playing concertos with community orchestras.
Post Fellowship, I still felt like I had so much to learn so I went overseas. I participated in summer schools in Holland and Italy, before returning home to commence studies with Goetz Richter (former Sydney Symphony Associate Concertmaster).
I started to get passionate about wanting an orchestral job, especially with the Sydney Symphony. I was awarded a temporary contract with the second violins and I auditioned for a permanent position every chance I could – each time learning a little more about the process.
After getting close several times but not quite cracking it, I decided to travel to Hanover, Germany for two months and studied intensely with a teacher I met at the summer schools in Italy and Holland many years earlier: Prof. Krzystof Wegrzyn. I pushed myself the hardest I've ever pushed during these months and, as I joke about now, it was a time where I locked myself in a practice room.
For over 15 years of my life, I was taught by Sydney Symphony musicians so it's no wonder I was so keen on a job with this Orchestra!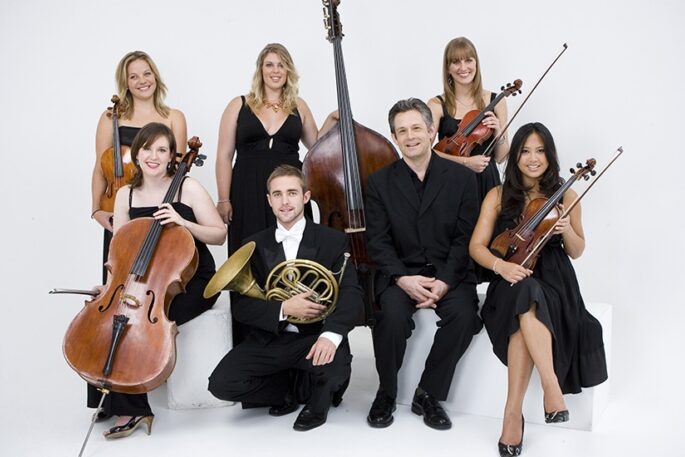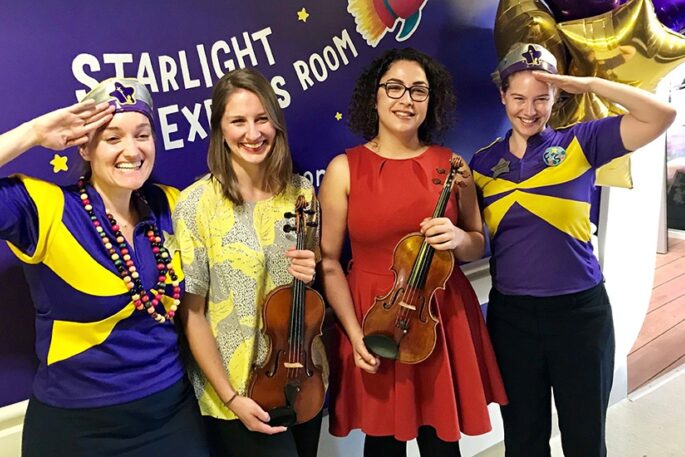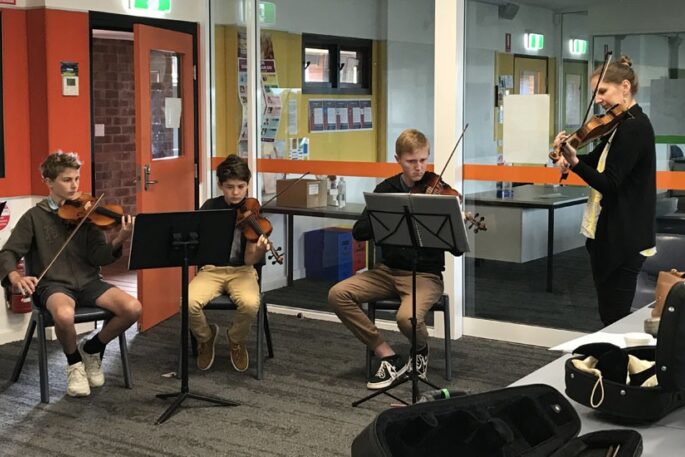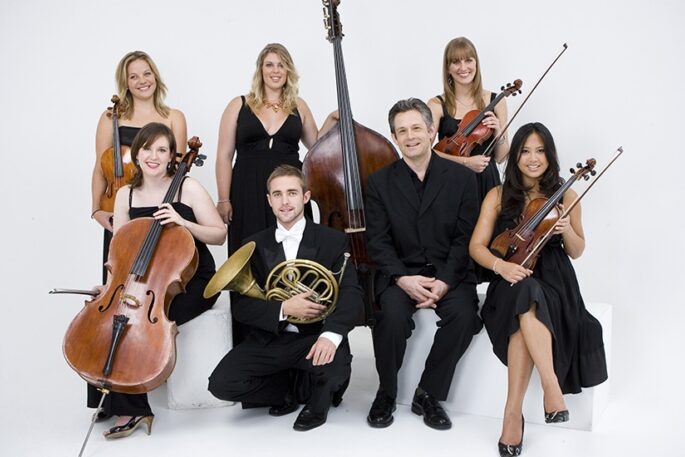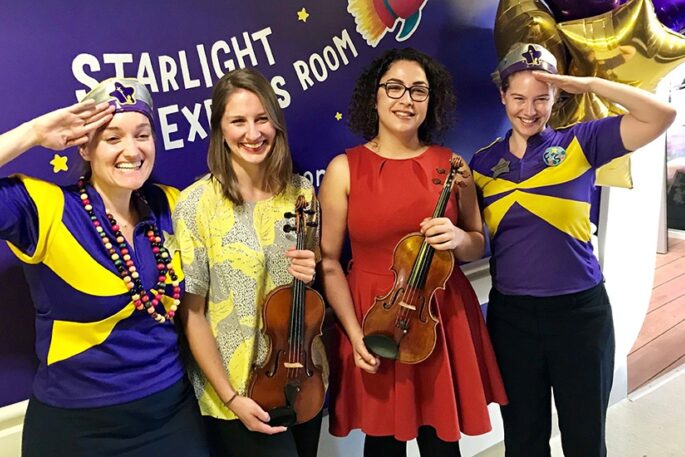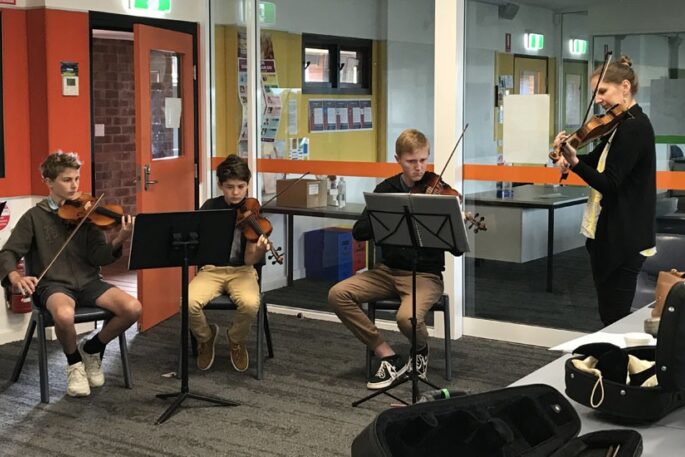 How did you find out about the second violin position with the Sydney Symphony?
At the time that the second violin position came up in the Sydney Symphony Orchestra, I was already filling the role on a contract in the section, so I was always aware when the auditions were coming up. I wanted the job so badly, and everybody knew.
There were two auditions for tutti second violin, seven weeks apart. The first of the two auditions I felt so confident and prepared, but I completely bombed out and didn't make it past the first round.
After a weekend of feeling sorry for myself, I came back with a vengeance. I played for Kirsty Hilton (Sydney Symphony Principal Second Violin) every week leading up to the next audition, fine tuning every facet of my playing and recording every lesson to make sure I didn't forget a single bit of information… and won the audition!
How did you combat nerves in your auditions?
They say it gets easier but I think with each audition my nerves got worse as it felt like there was more at stake.
I found doing mock audition recitals really helpful. I would grab some players in the orchestra, or some friends and family, and make myself do my entire audition from beginning to end. I did this probably three times before an audition so I could see the bits that crumbled under pressure. I would always record these recitals, so I could listen back.
Muscle memory is also a really important tool. It's amazing what your muscles remember to do when you've practiced something so much!
I tried a meditation app to help calm myself down for the few weeks leading up to the audition, but ironically the one audition I didn't do this for was the one I won.
Tell us about your audition experience.
I arrived 30 minutes before my audition and I could hear other applicants warming up in their practice. Self-doubt started to trickle in. The audition itself was over in about five minutes.
I walked out of the audition in a daze, wondering if it was enough to get me through. While I waited for the phone call due that afternoon to let me know if I'd progressed, I went home and I practiced. I got the violin out and I practiced everything the panel didn't hear in the first round in the hope that if I got through to the second round, I was as prepared as possible. I got a call that afternoon advising I'd progressed to the second round, but those few hours in between seemed like an eternity.
Round two was a blur. I remember my last excerpt of the audition, Mozart Symphony No.39 Finale –an extremely fast and difficult excerpt and probably my biggest nemesis of all the excerpts. I took a deep breath. I told myself this was my job. I said a little prayer and hoped for the best. I was happy with how I played and that's not something I say often!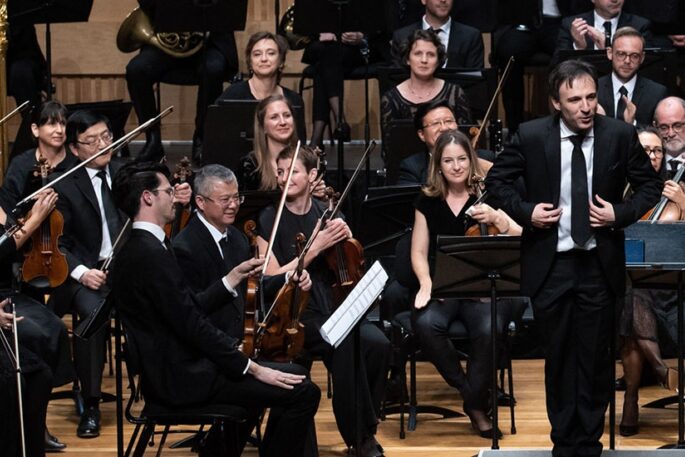 Was your audition a typical audition?
Most orchestras hold auditions for Australian and New Zealand residents, then open them up to international applicants if no appointment is made. My audition was an international audition. I remember thinking, I've got no chance at all now. I had no idea who would be heading over to Sydney for this audition and this threw me.
There's often a preliminary round for auditions, but if you have already worked with the orchestra you progress automatically to the first round. But this was not the case for this audition – there was no preliminary round, just a first round. It shouldn't have made a difference to my headspace but for some reason it did! When so little is in your control for auditions, any extra curveballs can really throw your mental preparation.
The first round was a screened audition (which means you play behind a screen so the panel does not know who you are). Some orchestras put up screens for every stage of the audition to avoid any bias towards the applicants. It was a standard first round structure: the exposition of a first movement Mozart Concerto (I always chose A Major) and usually three excerpts of various styles as chosen by the panel from a list I had been asked to prepare in advance.
The second round the following day was without the screen, so I could see the panel. They asked us to play Mozart second movement exposition, my chosen Romantic concerto (I chose Bartok Concerto No. 2) and five excerpts.

After my second round, I went backstage and again started practicing – in case the panel decided to go to a dreaded third round. An hour or two later all applicants had finished the second round. The panel had made their decision and the orchestral manager came out to announce the result of the audition.
When it came time to announce the result of the audition I don't think I breathed at all until I heard my name announced. I could not believe it. A huge wave of excitement and relief rushed through me!
I was one step closer to my dream job, the next hurdle was to pass the trial.
Once you won your audition, you undertook a 12-month trial with the Orchestra. What was that process like?
I always thought winning the audition was the hardest part and the trial would be a breeze. How quickly I learnt that was not the case!
A 12-month trial is a completely different ball game. Instead of being on your A-game for the duration of the audition, you begin to realise you need to be on your A-game every single day you walk out on that stage.
The great thing about a trial is that you get regular feedback and the chance to show you can adapt to this feedback – something you rarely get to do in an audition. At this point it's about how you work in the Orchestra, how you adapt to different conductors and programs, how quickly you learn and how you work with your colleagues (a part that is easy to overlook – people need to want to work with you).
When I found out I passed my trial, I felt like an enormous weight had been lifted from my shoulders. A relief that made all the blood, sweat and tears that much more worthwhile. Everyday I'm so glad I didn't toss the towel in after the numerous failed auditions, and that I continued striving for my dream job.